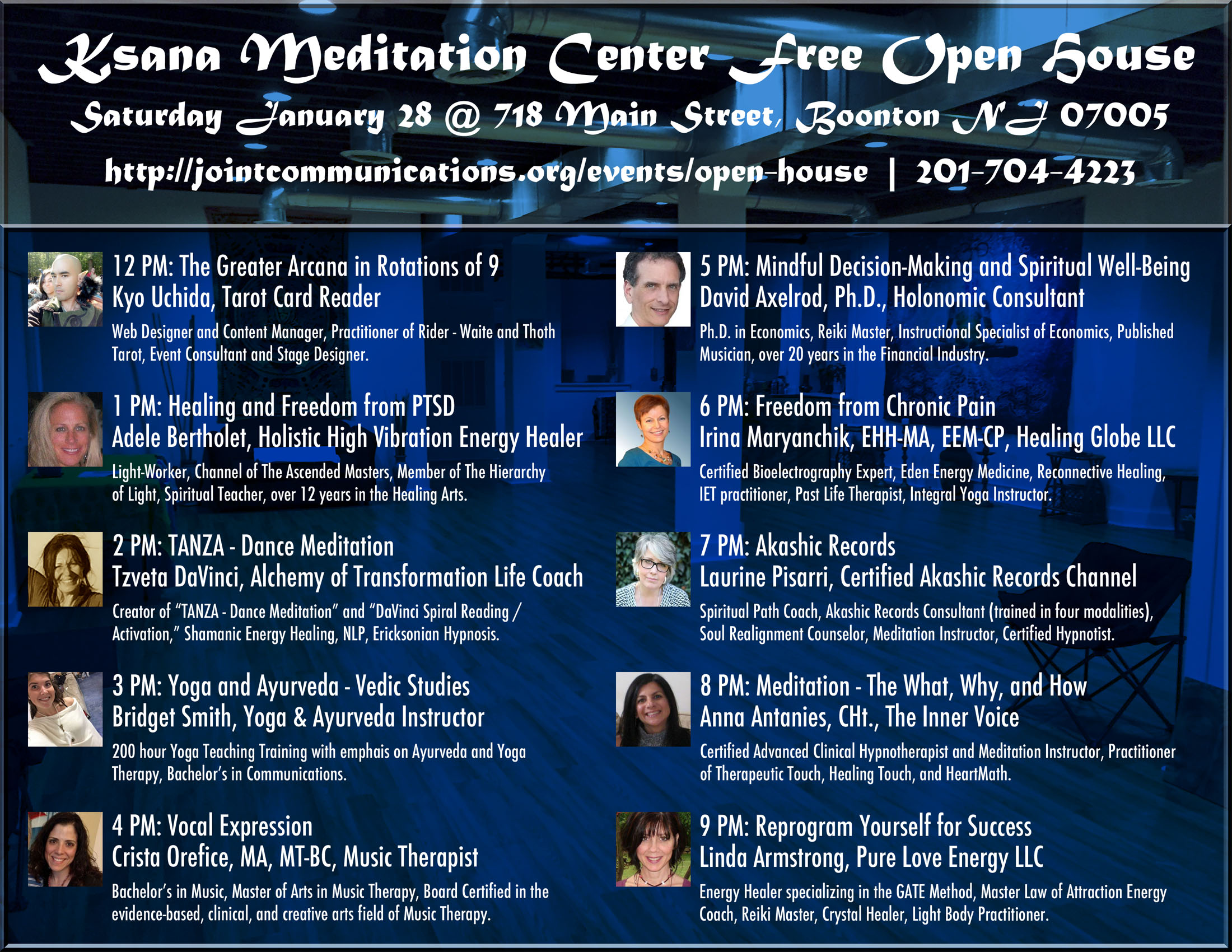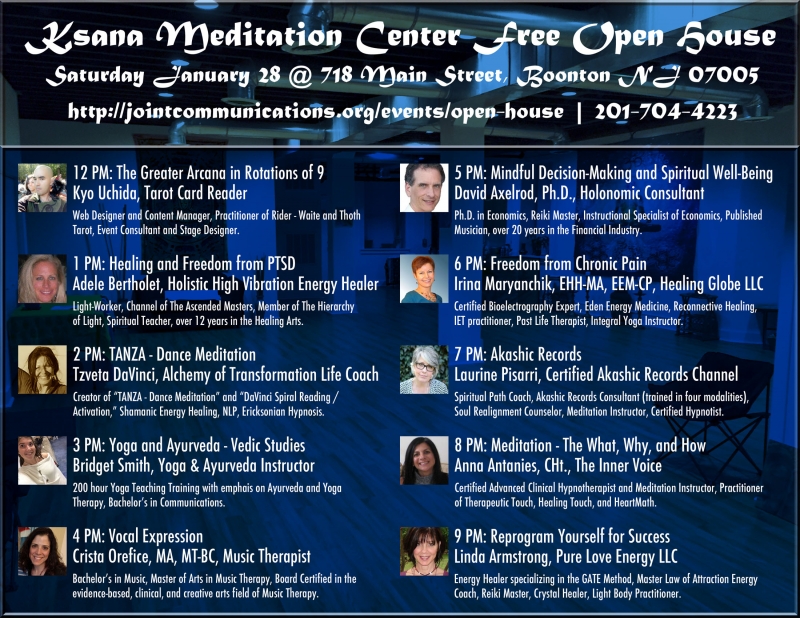 Open House
January 28, 2017 @ 12:00 pm

-

10:00 pm

|

Free
Ksana Meditation Center Open House
FREE HEALING ARTS EVENT
Date: Sat. January 28, 2017
Time: 12 PM – 10 PM
Location: 718 Main Street, Boonton, NJ 07005
We invite you to join us at Ksana Meditation Center for a FREE Healing Arts Event! This Open House will host workshops on a variety of topics including Tarot, PTSD, Meditation, Yoga, Expression, Holonomics, Chronic Pain, Akashic Records, Meditation, & Success! We hope you will be able to join us for a day filled with the healing arts and an oppourtnity to meet like-minded individuals in the area! All are welcome at this event! Please spread the word and invite your friends to the FB Event Page!
https://www.facebook.com/events/382746928731804/
---
SCHEDULE
12 PM: The Greater Arcana in Roations of 9
Kyo Uchida, Tarot Card Reader
Web Designer and Content Manager, Practitioner of Rider – Waite and Thoth Tarot, Event Consultant and Stage Designer.
Introductory course in tarot concerning the Greater Arcana, and tarot card readings throughout the day, courtesy of the web content manager of Ksana Meditation Center's website.
https://jointcommunications.org/profile/danzerkp/
1 PM: Healing and Freedom from PTSD
Adele Bertholet, Holistic High Vibration Energy Healer
Light-Worker, Channel of The Ascended Masters, Member of The Hierarchy of Light, Spiritual Teacher, over 12 years in the Healing Arts.
Has life been a series of challenges and upheavals ? Are you experiencing anxiety and are overwhelmed? Join us to learn more about PTSD and receive support and tips to begin to create a calm and empowering life from now on! This is a free program.
https://jointcommunications.org/profile/ambadele/
2 PM: TANZA – Dance Meditation
Tzveta DaVinci, Alchemy of Transformation Life Coach
Creator of "TANZA – Dance Meditation" and "DaVinci Spiral Reading / Activation," Shamanic Energy Healing, NLP, Ericksonian Hypnosis.
A synthesis of intention, breath work, Kundalini rising, and guided meditation, and that together activate the body's energy forces, creating a total shift in our lives.
http://tzvetadavinci.com/event/demo-tanza-dance-meditation/
3 PM: Yoga and Ayurveda – Vedic Studies
Bridget Smith, Yoga & Ayurveda Instructor
200 hour Yoga Teaching Training with emphais on Ayurveda and Yoga Therapy, Bachelor's in Communications.
Dosha Quizzes and Yoga/Food for your type!
https://jointcommunications.org/profile/basmith8193/
4 PM: Vocal Expression
Crista Orefice, MA, MT-BC, Music Therapist
Bachelor's in Music, Master of Arts in Music Therapy, Board Certified in the evidence-based, clinical, and creative arts field of Music Therapy.
Come on a journey of exploration of your own personal instrument – your VOICE! Whether you have singing experience or have never sung before, this workshop will offer an opportunity to center and connect the body, mind, and spirit. Please note: This is not a workshop to teach singing technique. This is a safe and supportive space to connect more deeply with your voice and its expressive capabilities. The workshop will focus on breath work, vocal toning, harmony with others, and improvisational melodic and rhythmic creations within a group setting.
https://jointcommunications.org/profile/meadowlark76/
5 PM: Mindful Decision-Making and Spiritual Well-Being
David Axelrod, Ph.D., Holonomic Consultant
Ph.D. in Economics, Reiki Master, Instructional Specialist of Economics, Published Musician, over 20 years in the Financial Industry.
This event will present the basic principles of holistic economics. You will learn how to use "Coulda-Shoulda-Woulda-Wasa" to make practical decisions expressive of  spiritual wellness. You will practice simple exercises to recharge your empowered self. Discover how economic insights can illuminate your spiritual path!
https://jointcommunications.org/profile/daxe/
6 PM: Freedom from Chronic Pain
Irina Maryanchik, EHH-MA, EEM-CP, Healing Globe LLC
Certified Bioelectrography Expert, Eden Energy Medicine, Reconnective Healing, IET practitioner, Past Life Therapist, Integral Yoga Instructor.
In this workshop I will introduce powerful strategies that will help you heal your chronic pain without using toxic medications. I'll share with you a complete system that helps your body heal the deeply seeded traumas and release the pain producing inflammation within weeks.
You will come away with breakthrough insights and practical actions you can take immediately and start feeling more flexible, more focused, more productive, in control of your own body, and start experiencing a great sense of joy in your life.
When your pain is no longer there, you will be able to participate in activities that give you joy, connect with your body in a totally new way, enhance your exercise routine, cultivate a deep sense of physical pleasure, and have a peaceful uninterrupted sleep. Click HERE for more information…
https://jointcommunications.org/profile/healingglobe/
7 PM: Akashic Records
Laurine Pisarri, Certified Akashic Records Channel
Spiritual Path Coach, Akashic Records Consultant (trained in four modalities), Soul Realignment Counselor, Meditation Instructor, Certified Hypnotist.
https://jointcommunications.org/profile/laurine/
8 PM: Meditation – The What, Why, and How
Anna Antanies, CHt., The Inner Voice
Certified Advanced Clinical Hypnotherapist and Meditation Instructor, Practitioner of Therapeutic Touch, Healing Touch, and HeartMath.
Whether you'd like to begin, deepen, or reawaken your meditation practice, this workshop is for you! Learn: What meditation is, Why meditation can enhance your life, and How to integrate meditation into daily living.
https://jointcommunications.org/profile/annaantanies/
9 PM: Reprogram Yourself for Success
Linda Armstrong, Pure Love Energy LLC
Energy Healer specializing in the GATE Method, Master Law of Attraction Energy Coach, Reiki Master, Crystal Healer, Light Body Practitioner.
I will guide you in a meditation journey to meet and work with a part of you, called a subpersonality, that may be blocking your ability to create success in any area of your life. You will talk to it and give it a new updated vision of who you are and what you want. You can more easily create your desires and have more abundance as you evolve this part of you. This is a very effective process for creating positive changes in your reality.
https://jointcommunications.org/profile/liveloa/
---
RSVP @ admin@jointcommunications.org
Ksana Meditation Website: https://jointcommunications.org
Facebook Fan Page: https://www.facebook.com/ksanameditationcenter/
Share This Story, Choose Your Platform!